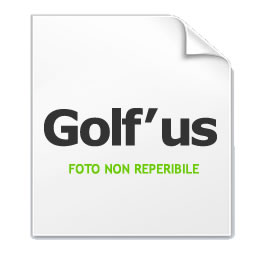 Purespin Diamond Face Wedge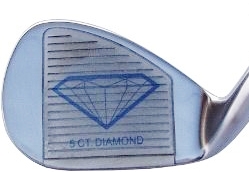 The PureSpin is the first golf club in the world to use diamonds on its face, resulting in incredible backspin control andamazing longevity.
The ability to stop the ball quickly means golfers can attack the pin with confidence knowing it will stay close to the hole,resulting in more one-putts and lower scores.
The club utilises ground industrial diamonds in a special compound which is permanently bonded to the face of the wedge.
This provides unprecedented grip giving the golfer incredible backspin and control.
Paul Hendry, sales director of Genesis, said "In just twelve months, this incredibly accurate wedge has become the number one on the American Seniors' tour
.Although only launched a year ago, it was also the best selling wedge on American television and number two in the retail channel. We believe it will have similar impact in the UK and the rest of Europe."
The diamond face scoring system also means the PureSpin wedge retains its performance capability much longer than any other club.
Independent tests showed that conventional wedges begin to lose their spinmaking grip after just fifty shots - the equivalent of five rounds of golf.
The PureSpin wedge was still producing spin after more than 1,000 hits.

Independent wear tests prove that the wedges hold the green up to four times better than other leading wedges.

TOUR ACCEPTANCE
In 1999, PureSpin wedges claimed four key victories, including three Senior PGA Tournaments and the Senior British Open.
Even without paid player endorsements, the PureSpin Wedge was named the fastest growing wedge and the number one wedge on the Senior Tour , topping the Darrell Survey in its category.
HISTORY
PureSpin Golf is the sister company of U S Diamond Wheel, a world leader in the manufacture of tools and products made with industrial diamonds.
The company's principals, recognising the opportunity to develop a breakthrough technology which would dramatically improve a golfer's performance and enjoyment,
founded PureSpin Golf in June 1998 and introduced the first club at retail in March 1999. PureSpin's mission remains: to produce golf products which blend classic,
traditional club design with innovative production and material technologies.


TECHNOLOGY
Recognised as a technology-driven industry leader, PureSpin Golf incorporates its revolutionary Triple Treat Technology,
a trio of design elements comprised of diamonds, tungsten and a Double-XXä Straight Shaft, into every club line.
PERFORMANCE
Independent test results have proven that PureSpin clubs continue to perform the way they should longer than the competition.
Traditional clubfaces lose their ability to hold the green after just 50 shots. Diamonds never wear out, so PureSpin clubs,
which produce consistent ball rotation for distance control, will get the ball closer to the hole for a lifetime.